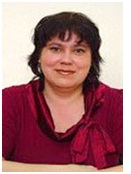 The Head of research laboratory –Doctor of Pedagogic science Demidova Natalya Nikolayevna.

Laboratory staff:
Kamerilova G.S. – Chief research officer
Krotova Е.А. – research officer
Kiselyova N.U. – research officer
Matveeva АV. – research officer
Postgraduate, master's students, students
Research laboratory "Eco design of urban environment" - is the collaboration of scientists, students, Postgraduates, master's students, – community of people having different statuses, competences, specialities, ages, who coordinate their scientific, methodological, and educational activities in the field of development of ecologically sound and aesthetically integral urban environment.
Goal of scientific research activities: to develop conceptual fundamentals of eco-design of urban environment as harmonizing attitude of a person to the environment
Objectives of scientific research activities of research laboratory:
- theoretical development of conceptual fundamentals of eco-design of urban environment in terms of scientific-theoretical and educational aspects
- theoretical concept and practical implementation of principles of eco design organization as stable development of urban environment on three research levels: theoretic-methodological, psychologic-pedagogical, particular-didactic.
Research Laboratory Profile
| | | |
| --- | --- | --- |
| Theoretic-methodological | Scientific methodology | Administrative-communicative |
| | | | | |
| --- | --- | --- | --- | --- |
| Work out of conceptual fundamentals, means ,forms of research of eco-design of urban environment with steady development of metropolis | | Definition and arrangement of methodical peculiarities of studying eco-design of environment in the course of contemporary school, supplementary ,university and , post-graduate education | | Arranging and conducting international conferences and forums; contests for students and school children; exhibitions, contests; webinars, workshops, discussions. |
Strategic partnership of RL "Eco design of Urban Environment"
Ministry of Education and Science of the region of Nizhny Novgorod

Regional Ministry of ecology and natural resources

Nizhny Novgorod regional Department «Society of Environmental Protection»

Geographical society of Russia

Eco center «Dront»

Atomic Energy Information center

Higher Educational Establishments

Secondary educational establishments

Verchne-Volzhskoye interregional Department of hydrometeorology and monitoring of environment
Key results of Research laboratory activities
Work out and arrangement of elective courses ,seminars and tutorials

Releasing of study guides

Taking part in international conferences and forums

Taking part in exhibitions and contests

Activities in creative workshop "Ecological design of a big city"