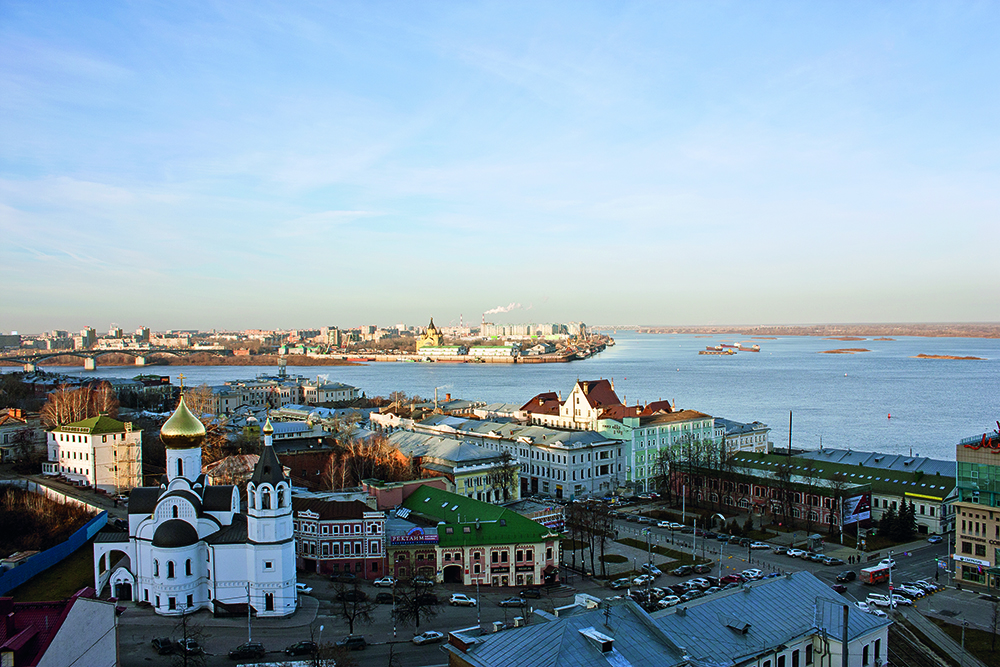 The city that has kept its spirit of old times. Anyone who happens to walk along the streets of Nizhny Novgorod seems to be carried a hundred years ago. Narrow lanes with wooden houses perfectly fit into a modern megalopolis. Landmark of the city — Bolshaya Pokrovskaya street — is a multi-kilometer pedestrian zone that leads to the centre of Nizhny Novgorod — the Kremlin. Fortress walls stretch for two kilometers. There is the highest embankment situated there — with a beautiful view of the confluence of two great rivers — the Volga and the Oka, on two banks of which the amazing city is settled. The gorgeous landscape is impressive.
Nizhny Novgorod is the only ancient city in Russia, founded by an orthodox Saint. It appeared in 1221 in a remarkably beautiful place due to Faithful Saint Grand Prince Georgy Vsevolodovich. Until now magnificent cathedrals, monasteries, convents and churches are the main landmarks of the city. The domes glisten in the sun and clear sounds of bells delight residents of Nizhny Novgorod and its guests.
Where is it?
Located at the confluence of the Volga and the Oka rivers
Inhabited since 13th century
Population of 1,3 million, 5th most populous city in Russia
4-hour railway trip from Moscow
Historic centre is a UNESCO World Heritage Site
Top IT industry nationwide
Houses largest Intel R&D Center in Europe
Over 30 educational and research institutions
Minin University
Since its founding in 1911, State Pedagogical University of Nizhny Novgorod has launched more than one hundred educational programs, and thousands of educators have been trained. In 2011, we named our university after Russian patriot Kozma Minin, who is strongly associated with the city of Nizhny Novgorod and Russian history. Despite its long history, Minin University has a start-up feel as it moves to fulfill the educational standards of the new century.
Today, Minin University is an educational institution where e-learning, high-tech studying methods, and student project activities are applied. We are proud of our high rate of advanced employment and adaptive entry to а future profession for Minin University's graduates. We do believe that the University for a student is a starting point for both a strong educational and a strong life trajectory.
Minin University will never turn into a generic educational institution. Our priorities are developing the disciplines that represent the highest scientific and academic potential of Minin University and supporting their relevance in Russia and worldwide.
The mission of our University is to train innovators who will become professionals in their career with interdisciplinary education and abilities to anticipate and adapt to the future, acting decisively.