The Futher Education Center has been established to implement a unified educational policy of the University, designed to meet professional needs of the students to encourage personal development, professional and creative abilities. The center integrates the activities of faculties and departments to develop and implement additional professional programs according to the present level of the educational system and industries using remote and interactive methods of further education. The center serves as the basic platform for organizing and conducting seminars, conferences and other forms of further education. Relevant for the center is to find opportunities for international cooperation in course of additional professional programs implementation.
In-service education programs
In-service training programs implementation is aimed at improving and obtaining new competencies necessary for professional activities and professional development within the existing qualifications

Forms of training, date and place of additional professional development programs is determined by the program and the contract for educational services. Training courses can take from 16 to 250 hours.
Educational institutions and educational process management
Theory and Methods of Teaching
Special needs pedagogics and psychology
Psychological support and counseling
Modern management technologies
Ecology and Nature
Improving information and communication competence of experts
Retraining programs
Retraining programs are aimed at obtaining necessary competences to perform a new type of professional activity, acquisition of new skills.

Qualifications indicated in the document on qualification gives its holder the right to engage in certain professional activities and (or) to perform specific work functions for which the legislation of the Russian Federation determines mandatory requirements for qualification as a result of additional vocational training, unless otherwise provided by the legislation of the Russian Federation
Management of educational institutions and the educational process
Theory and Methods of Teaching
Special needs pedagogy and psychology, inclusive education
Psychological support and counseling
Modern management technologies
Ecology and Nature
Improving information and communication competence of experts
Contacts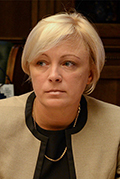 Svetlana Sotkina, PhD
head
1, Ulyanov Str., room 311
tel. +7 (831) 262-20-48 #306
e-mail
international@mininuniver.ru